Thanks for coming to the Spring CEANing 2019!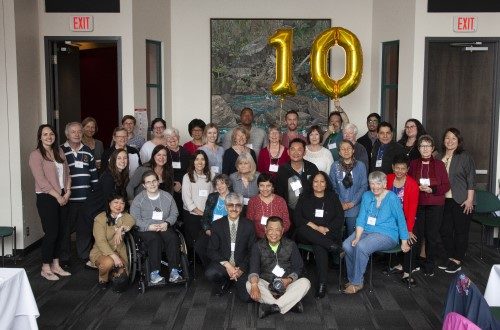 Group photo of CEAN members at the Spring CEANing event on Saturday May 25th
A big thank you to the CEAN members who attended the Spring CEANing on Saturday May 25th. 41 members of CEAN attended from near and far to share their thoughts on Patient Experience. What makes a patient experience good and what makes it not so good? What would you do to help make patient experiences better?
We also took some time to celebrate the 10th anniversary of CEAN. It is hard to believe it's been 10 years since CEAN began. In that time the network has grown to over 320 members and supported the CE team to work on hundreds of engagement processes. We are truly grateful to have such an amazing network of advisors supporting the inclusion of patient and family voice into planning and decision making at VCH.
The CE team is working on collating the feedback and pulling together a summary report. We look forward to sharing that with you in the next few weeks.