How can technology and patient and family engagement support improved dementia care?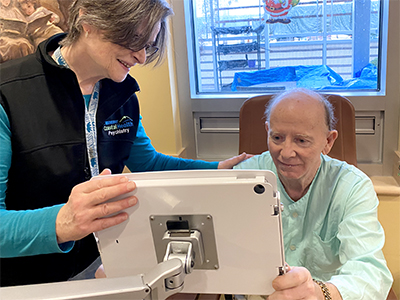 People living with dementia can watch pre-recorded videos of their loved ones safely and securely thanks to a specially designed articulating arm and iPad mounting system.
Over the past several years, patient and family engagement champion Dr. Lillian Hung has been working  with several CEAN members on various research projects which look at how technology can support improved  dementia care. One of the latest projects she has worked on with CEANs is the iPad Project, which uses family generated videos to support patient therapy – connecting patients to their loved ones via pre-recorded videos.
This research project has now been transformed into an online toolkit to support hospitals and care facilities around the world to implement the iPad Simulated Presence Therapy.
The toolkit includes some familiar faces, as well as advice on how to create short, positive and encouraging videos of loved ones. It also features a downloadable brochure with information about the therapy for family members and a pocket card for staff which breaks down the steps to follow when implementing video therapy for people with dementia.
This recent news story by VCH Research Institute talks about the project in detail and links to the new online toolkit.
Thanks to CEAN members Mario Gregorio, Jim Mann, Annette Berndt, Christine Wallsworth and Neil Horne for collaborating and contributing to the project! And thanks to Lillian for continuing to look at new and innovative ways to engage patients and families to support person and family centred care.