Spring CEANing Report: Understanding & Measuring Patient Experience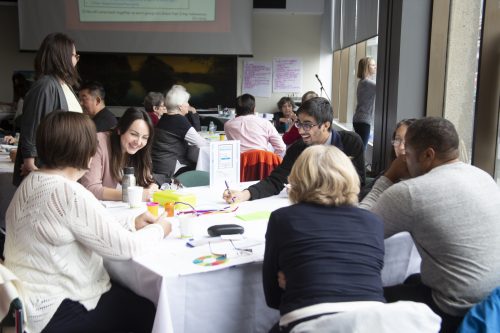 CEAN members sharing their thoughts on patient experience at the Spring CEANing
We are very happy to share the latest Spring CEANing report with you. On May 25th, 2019, 41 members of CEAN attended a forum in downtown Vancouver to share their thoughts on Patient Experience. What makes a patient experience good and what makes it not so good? What would you do to help make patient experiences better?
At the forum, we reviewed the 11 dimensions of quality healthcare that CEANs had identified at a previous forum back in 2012. CEANs then prioritized the dimensions to identify the three areas that they felt most affected patient experience.
The Top 3 Things that Influence Patient Experience
CEAN members identified these three dimensions as the most important when it came to patient experience:
Communication and Information
Respect, Compassion and Trust
Timely and Convenient Access to Healthcare
We further explored these themes with CEAN members, and asked them to identify what it looks like when the top three dimensions are done right, what observable behaviors should be seen and what should we measure? CEAN members gave us a lot of great feedback, which will continue to inform the patient experience work that is ongoing at VCH.
Patient and Caregiver Stories for Change
We also took some time at the forum to engage with CEANs on a project the CE Team is working on with help of their summer practicum student, Natalie Buglioni. Natalie is creating a storytelling template to help patients and families to share their stories to support change and quality improvement. We got some preliminary input at the forum, and Natalie has also conducted a focus group and interviews with CEAN members to help create the tool. More on that to come soon!
10 Years of CEAN
We also took some time to celebrate CEAN's 10th Anniversary, and acknowledge the many projects and committees that CEAN members  have supported over the years. It was a great way to round out the day!
You can view the summary report as well as any support documents and photos of the event by clicking here. 
If you have any questions or comments about the report, please get in touch with ce@nullvch.ca.