Research Project Involving CEANs Published in Patient Experience Journal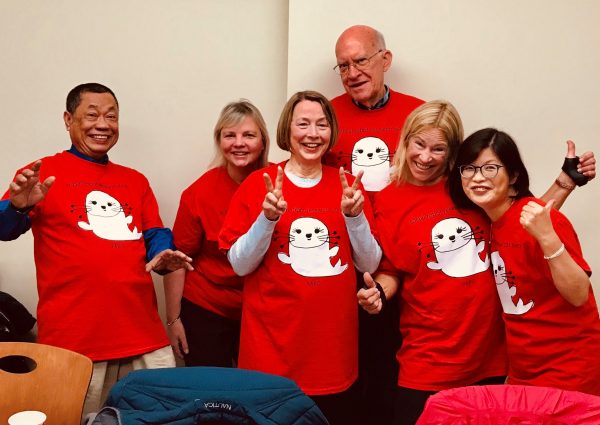 The research team included 5 members of CEAN
A recent study focuses on research and practices around understanding and improving patient experience
by Lillian Hung
Last week, Patient Experience Journal released a special issue on 'The Role of Technology and Innovation in Patient Experience'. Members of CEAN (Community Engagement Advisory Network), Mario Gregorio, Jim Mann, Annette Berndt, Christine Wallsworth, and Neil Horne worked alongside researchers Dr. Lillian Hung and Professor Habib Chaudhury, and clinicians Dr. Evan Woldum and Dr. Cindy Liu, Andy Au-Yeung (OT) to publish a paper on their experiences of co-leading a social robot study.
This article provides a rich description as well as practical details of the research experiences among team members. An inclusive environment was identified as important to facilitate meaningful partnerships for undertaking research together. Trust and respect were seen as vital for a rewarding and productive experience in the research journey. Challenges to sustaining participant engagement included competing priorities and a risk of tokenism.
Based on lessons learned, the authors offer "A to E practical tips" to help others increase the engagement of patients and families in research and beyond. See Box 1 below. View the full article 'Involving patients and families in a social robot study' to learn more.  See the full special issue here:  The Role of Technology and Innovation in Patient Experience'
Box 1 Practical Tips
Practical lessons
Patient and family co-researchers' quotations

A

ddress the needs of team members
I like getting the meeting booking and agenda way ahead of time and then reminders. That helps a lot. If it's not there, I will forget. I also like you [LH] kept the meetings focused on purpose. I like to research things, so I am more prepared for participation. (MG, Patient co- researcher)

B

uild trust and respect to enable effective partnership in all phases of the project
I am not looking for the box that says here you fit in. I trust you to tell me to do what is needed and at the same time you have to trust me too. I love the flexibility and I have good feelings every time we meet. This is important (JM, Patient co-researcher)

C

enter on shared purpose and collective commitment
The goal of the whole team is to help people with dementia. For me that is meaningful. I really think that we were helping the people involved with the research. If we just came in to experiment on people, then I wouldn't be involved. (CW, Family co-researcher)

D

emonstrate openness to learn together
I think there are many scientists out there still have the "know it all" attitude. I think it is up to us [persons living with dementia] to tell people the reality. (JM, Patient co- researcher)

E

nsure that research findings get into the hands of those who can use them
The director of care has been asking me about the social robot and insisted that PARO needs a field trip to the care facility. I really think we've got to get our research out there. Sooner, not later. It's important that we move ahead. (NH, Family co-researcher)
The CE Team would like to sincerely thank Jim, Mario, Christine, Annette and Neil for being a part of this innovative research project. Kudos go out to Lillian Hung for always seeking to include patient and family voice in her projects!