Our Visit to Powell River – Pearl of the Sunshine Coast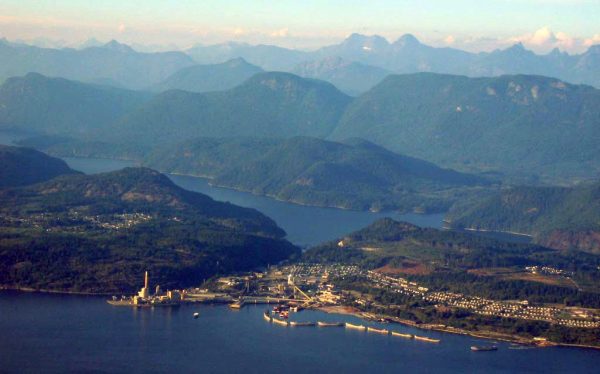 Powell River Mill and townsite area of Powell River.
by Saori Yamamoto, CEAN Coordinator
Last week, Community Engagement (CE) Leader Belinda Boyd and I had the pleasure of travelling to Powell River in VCH's Coastal Community of Care. We spent a beautiful two days in the seaside community, to meet some potential new CEAN members as we start a collaborative project to support improved access to primary care in the community. VCH will be working with the Powell River Divisions of Family Practice (DoFP) and other community partners on the project over the next few years. The CE team will work to support meaningful engagement throughout the process. This is the second time in the past 2 years that the CE Team has collaborated with the DoFP in Powell River to support them to work with CEAN members in the community. The last project was around supporting improved care for chronic pain which CEAN member Lina Vallee and DoFP member Dr. David May presented on last week at the Quality Forum. To find out more about that project and view their presentation click here.
Highlights from our trip were many; The stunning natural beauty of the town, the smiles from the people we passed by wherever we went, meeting many new patients, families and community members who want to help make healthcare better, visiting with CEANers in the community, a tour of Willingdon Creek Residential Care Facility, holding our orientation sessions in the new Powell River Public Library and meeting staff at Powell River Hospital for a Lunch and Learn on writing surveys. It was a busy trip but we left feeling energized and excited about what is to come.
We are really looking forward to working with the lovely folks we met, many of who will be adding their voice to healthcare planning and decision making on this project and through CEAN. We want to send our sincere thanks to two of our CEANers in Powell River; Nan Dunn for coming to an orientation session and sharing her experiences, and Carmen Kuczma for taking us all over town and giving me a whirlwind tour of the town she is very proud to call home.
Belinda and CEAN member Carmen Kuczma in front of the new Powell River Public Library. Check out those views of the coastal mountains!