Introducing the VCH Patient Family Experience Council (PFEC)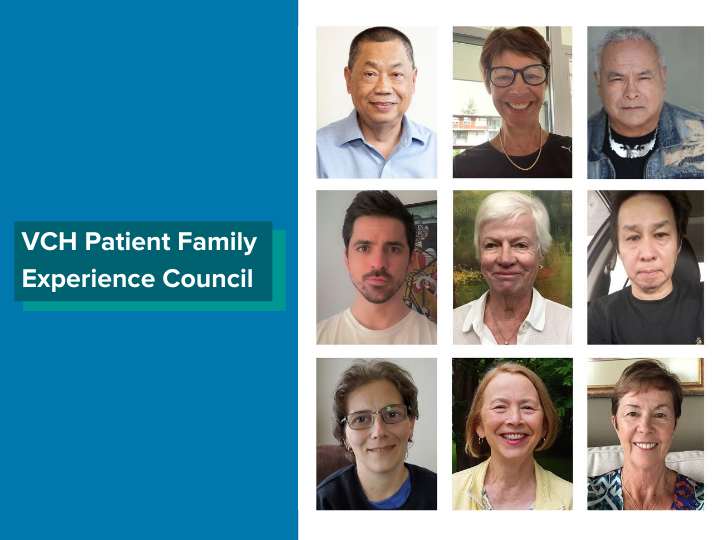 Members of the VCH Patient and Family Experience Council (PFEC) include (from top row left to right) CEAN members Mario Gregorio, Holly Horwood, Elder Dennis Joseph, Colin O'Neill, Ann Mackie, John Con, Lina Vallee, Christine Wallsworth, Barbara Greenlaw. Missing from this photo are: Anand Dhatt, Svetlana Moukhanov, Sheila Dunn, Neil Horne, Elder Doris Fox
COVID-19 has drastically changed the delivery of healthcare. The challenges for patients, families, caregivers and staff are great. Throughout these unprecedented times, it is the mission of VCH's Patient Experience Strategy to support the patient experience and engage patients, families and caregivers to maintain person and family centred care.
What is the VCH PFEC​?
To support this mission, we have formed a Patient and Family Experience Council (PFEC). PFEC is a group of diverse CEAN members who will support patient and family engagement around elements of COVID-19 response at Vancouver Coastal Health. The PFEC is supported by, and reports to, the Patient Experience Working Group (which includes members of Patient Safety and Quality, Client Relations and Risk Management and Community Engagement). ​The PFEC also collaborates with members of the VCH Aboriginal Elder's Council.
VCH PFEC Supporting Person and Family Centred Care
The PFEC will support inclusion of the patient and family lens on different COVID-19 related response such as:
Review of VCH policies and protocols affected by COVID-19
Engagement processes around how COVID-19 has affected care i.e. the effect of COVID-19 on surgical processes, how COVID-19 has affected virtual healthcare
Review of communication toolkits and materials to support patients, families and staff during COVID-19, such as the Restarting our Services videos 
Identifying and understanding issues faced by the patient, family and caregiver community during and after the COVID-19 pandemic​
There will also be continuing quality improvement work coming out of our current experiences with COVID-19. How will we move forward to a "new existence" and strive to learn and grow from what we have been through?  The PFEC will be able to help support the patient, family and caregiver lens in this work moving forward.
We are very grateful to the PFEC and the Aboriginal Elders for stepping in and supporting patient and family engagement around  COVID-19 response at VCH, often with very little turnaround time! With their support, as well as the ongoing support of CEAN, we will endeavour to continue to include patient/public voice in our planning and decision making at VCH during these unprecedented times.