How do your CEAN eyes make a difference?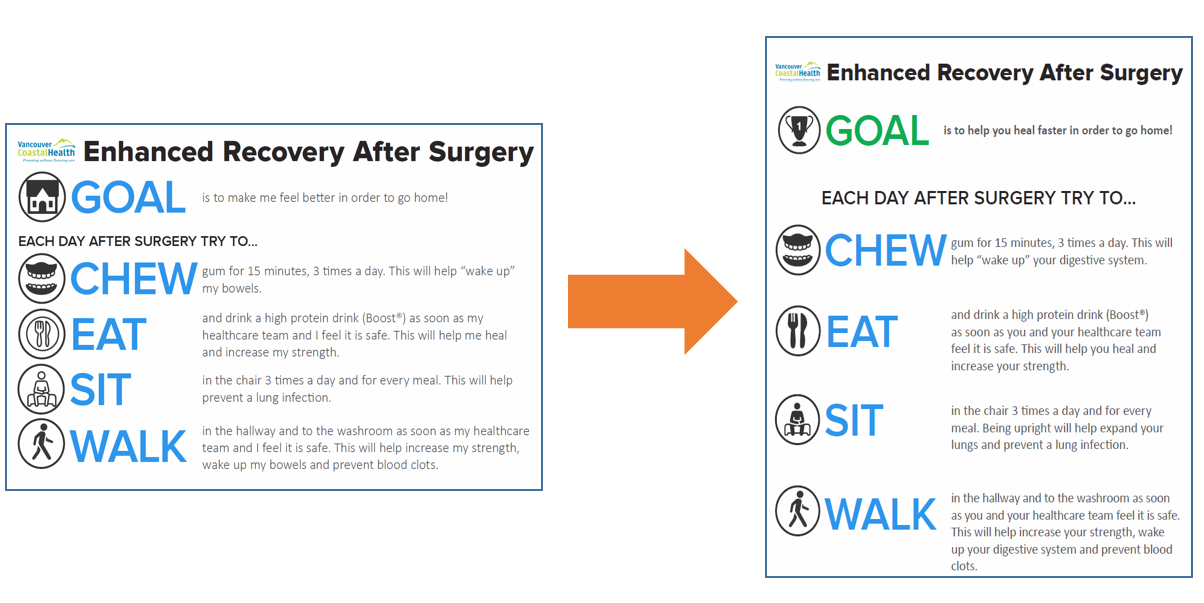 The poster above will be placed in patient rooms to support better recovery for patients post surgery. It was adapted with the help of CEAN feedback.
Have you ever provided feedback on a draft poster to make sure that it is is user-friendly and appealing to patients and family members?
Approximately 10% of the projects we do involve CEANs reviewing a poster or pamphlet intended for patients and families. The end result is a document that is more appealing, easier to navigate and uses language that is more understandable. When asking CEANs to review documents, we use questions to guide CEAN feedback around format & organization, content, appeal and design and cultural sensitivity and appropriateness.
Take the Enhanced Recovery After Surgery (ERAS) Patient Goals poster above for example. CEANs reviewed the original version and gave helpful feedback on language and layout. The result is a more spaced out poster which highlights the goal of ERAS and uses language which is more appealing to patients and family members. CEANs also provided helpful feedback on the orientation (portrait vs. landscape) and size of the poster as well as the graphics (trophy vs. house).
This is just one example of how feedback from CEAN members can support teams at VCH to be more confident about the posters and documents that they are producing to support patients and families in their care.