#hellomynameis: Simple introductions. Human connections. Compassionate practice.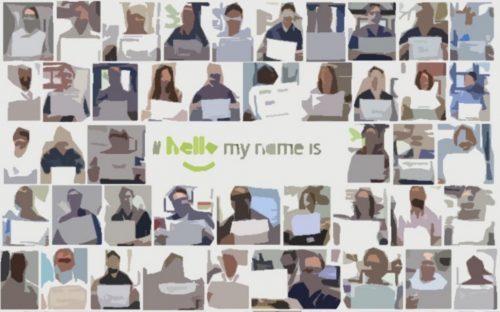 On July 23rd, Vancouver Coastal Health (VCH) joined countries across the globe in celebrating a day of action aimed at encouraging all staff to be intentional about introducing themselves and their roles in all encounters with patients, clients, families and caregivers.
The onset of the COVID-19 pandemic has changed the face of health care as we know it. The ever-evolving environment, need for physical distancing and use of personal protective equipment (PPE) have transformed our health-care facilities into a new reality for our staff, as well as our patients and clients. During this unprecedented time of concern and uncertainty, simple introductions and human connection have become more important than ever. 
The #hellomynameis campaign supports staff at VCH to come together as a team and partner with our patients, clients and caregivers to optimize the patient experience and work towards exceptional care. 
Watch our #hellomynameis video to see how making a human connection, especially during the time of COVID-19, can make a big impact on experiences for both patients and staff.
Click here to find out more about the #hellomynameis campaign.
Click here to read what CEAN members shared about the importance of making human connections in healthcare. 
​