Happy 10th Anniversary CEAN!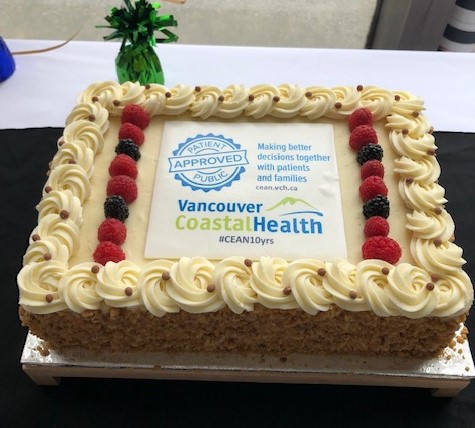 This year Vancouver Coastal Health celebrates the 10th anniversary of the Community Engagement Advisory Network (CEAN) and the over 300 volunteers who have dedicated their time and experience to help make VCH better for everyone we serve. CEAN started back in 2009 as a group of volunteers with a mandate to support patient and public involvement at (VCH). Through collaboration and engagement with VCH staff, CEAN volunteers are committed to improving the services we provide and enhancing the health of our communities. Over the last 10 years, CEAN has added the patient and family voice to over 425 projects across the organization including Advance Care Planning Public Education, the Downtown Eastside Second Generation Strategy, the Joe and Rosalie Segal and Family Centre for Mental Health & Substance Use and the VGH Operating Room Renewal. CEAN has also received national awards for their work supporting engagement at VCH with two Core Values Awards from the International Association of Public Participation.
What makes them so CEAN?
Our most recent CEAN Annual Participation Survey tells us that the main reasons why CEANs participate is that they have an interest in supporting improvement the healthcare system for the sake of healthier communities. They also feel their lived experiences can be used to help create a more patient and family centred healthcare system.
On May 25, 2019, VCH staff and the Community Engagement (CE) Team had an opportunity to thank and celebrate some of the CEAN volunteers at the annual CEAN Forum. Throughout the summer and fall, the CE Team will continue to share stories of incredible volunteers to acknowledge their contributions and to say thank you for 10 years of achievement.
Stay tuned!
Do you have a memory to share about your participation as a member of CEAN? Share your stories with us by emailing the Community Engagement Team at ce@nullvch.ca and we'll share your story with CEAN members and staff.