CEAN Beginnings: A memory from CE Leader Belinda Boyd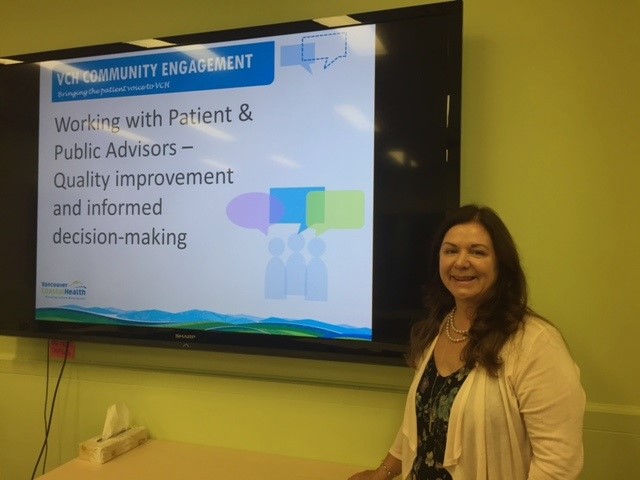 Belinda Boyd has been a Leader with the Community Engagement team since 2006.
I recall in 2009 when Community Engagement had our budget reduced substantially and we had to determine how to best move forward with our advisory committee structure.  At that time we had an advisory committee for each community of care; Richmond, Vancouver and Coastal as well as an Aboriginal Advisory Committee.  The role of the Community of Care (CoC) advisory committees was to provide input to senior leadership in those communities, to liaise with the communities and to facilitate ongoing engagement to inform and improve health care delivery.
The Community Engagement team (which at that time was 6 people; today we have only 2) brought our advisory committee members together to advise us on next steps.  We knew we needed to create a different structure as we no longer had the budget for COC specific advisory committees.  In dialogue with the advisory committee members the concept of a virtual advisory network was born.  The advisory members envisioned bringing the existing members together in a virtual network and growing the membership over time.  They envisioned annual forums that would bring together senior leadership and advisors to dialogue on priority issues and strategy. They envisioned supporting VCH staff in achieving their goals of providing patient centred care. They considered all the many ways they could bring their voice and experience to health care planning to improve care and improve the experience of patients in care.
Out of that visioning and dialogue the Community Engagement Advisory Network (CEAN) was born and has more than exceeded the goals and aspirations that were envisioned back in 2009.  It has grown from 59 members to 330 today; over 400% growth. CEAN members have contributed thousands of hours to supporting VCH to provide better health care  and to improving the patient experience. They continue to contribute with over 150 members active on projects, committees, initiatives throughout VCH with the rest of CEAN involved in patient material reviews, policy development, hiring committees, Request for Proposal reviews and many other tasks that contribute to better patient care.
We are very fortunate to have such a dynamic and diverse advisory network. It is an award winning network that has substantially and positively impacted health care delivery at VCH.  Ten years strong and counting. GO CEAN!