Because caring shouldn't involve guesswork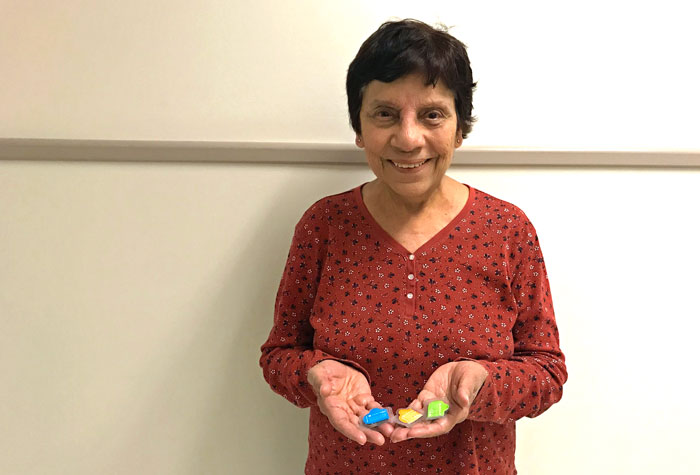 Fitbit-style tags like the ones held by Zarina Sajoo will be attached to VGH surgery patient wristbands starting in November.
Shared from VCH News – Aug 26, 2019
"I was a nurse for 40 years, but I was scared when I arrived for my surgery at VGH," says Zarina Sajoo.  
"From the time I was in the pre-op area, there was no good way to get information to my daughter, who had dropped me off and went to park the car," she recalls. "I grew even more worried, but this time it was about my daughter: How was she going to know what was happening to me or where I was?" 
With experience from both sides of the gurney, Zarina has contributed to the VGH OR Renewal Project as a member of the VCH Community Engagement Advisory Network (CEAN)​ since 2017. 
More recently, she's provided input into a new technology solution — the first of its kind at VCH and unlike anything now in use in B.C. This leading-edge technology will take the guesswork out of waiting for families and the surgical patients they hold near and dear.
​Better information, less stress 
Caption: Screens in surgical waiting areas will provide regular patient updates making the surgical expereince less stressful for families.
Starting in November, all surgical patients at the VGH Phil and Jennie Gaglardi Surgical Centre will wear a hospital wristband with a Fitbit-like tag attached to it. This small piece of technology is part of an innovative real-time patient-tracking solution.
As patients begin their surgical journey, their wristbands will communicate with tracking technology and new screens in surgical family waiting rooms. Families will have real-time information to follow their loved one's progress from pre-op to post-op, minimizing the need for phone calls to staff about patient status. 
And, because only family will know a patient's unique identifier, screen displays will ensure patient privacy and security. 
​Fewer delays, more on-time surgeries
Screens in behind-the-scenes clinical areas with more detailed patient information will enable physicians, clinical and support staff to both track and report out on the status and location of patients to improve the flow of cases through the day. 
Alerts and notifications about a patient's pre-surgery status will help to reduce delays in surgery starts, while notifications of surgery completions to Environmental Services will mean more timely cleaning and shorter turnaround times for operating rooms between surgeries. 
"Better, more timely information on the day of surgery will ultimately benefit everyone involved," says Juanita Poelvoorde, IMITS project manager. "Patients and families will gain peace of mind and a better overall care experience, while our VGH perioperative team will be equipped for a smoother work day and a better overall work experience."
Watch for more news on this innovative technology when VGH begins to track surgical equipment in 2020.