10 Years of CEAN Forums
by CEAN Coordinator Saori Yamamoto
As we continue to celebrate 10 years of CEAN, I have been thinking about all of the forums that have happened over the years. The CEAN forums have always been a wonderful opportunity to network, celebrate CEAN, listen and learn and do a lot of hard work!  Our CEAN forums always include a workshop portion where we consult with attendees about an important strategic priority to Vancouver Coastal Health (VCH). 
You can review the reports from all the forums here: http://cean.vch.ca/members/forums/
Feedback from these forums have informed and guided important work going on at VCH such as: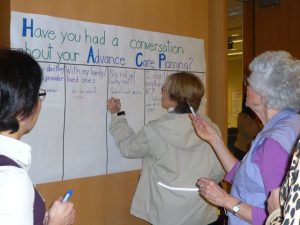 CEAN Spring Forum on Advance Care Planning – March 2010
This is where the award-winning CEAN Advance Care Planning (ACP) Workshop program began! CEANS told us we should develop a peer led public information workshop around ACP. 9 years later, CEAN facilitators are still delivering workshops in Vancouver, the North Shore, Richmond and the Sunshine Coast. To date, our facilitators have delivered workshops to over 900 public participants.
CEAN Forum on What does Quality Mean to You? – November 2012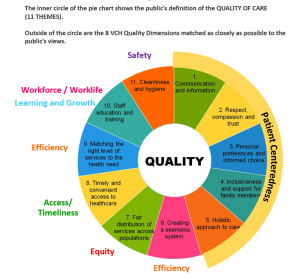 This is where the Quality Wheel was born! We engaged CEANs on what elements contributed to good quality healthcare to them, and compared these to VCH's quality dimensions. This work has been shared at the Quality Forum, used by the VP of Medicine with physicians, and most recently, at the latest CEAN Forum in May of 2019 on patient experience.  
CEAN Forums on My Health My Community Survey – May 2013 and Nov 2014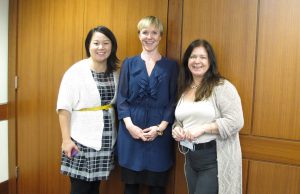 The My Health My Community (MHMC) Survey is the largest population health survey in B.C. The survey is meant to create a set of baseline data that can be used to measure the on-going health and well-being of our communities and provide critical data to help support decision makers and service providers understand the trends, resourcing needs and health inequalities of the individuals who live and work in their communities. The survey was first launched in late 2013. In May of 2013 the MHMC team came to lead a CEAN forum to help support the promotion and dissemination of the survey to the public. Feedback provided at this forum helped to create the promotional materials used. The MHMC team returned to the CEAN forum in November 2014 to share some results from the survey and discuss how the data from the survey can help to build a more sustainable healthcare system. The survey will be launched for a second time within the next year or so, and CEANs and CE are continuing to contribute to the project.
CEAN Forum on VCH Values – April 2018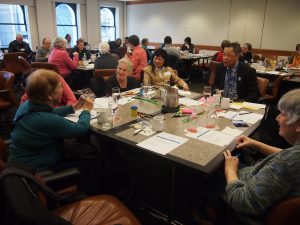 VCH is currently working towards culture change. This transformation began with the creation of shared values for the organization. Our internal Transformation Team did a lot of engagement with staff on what values resonated with them most. Our staff chose three main values: caring, learning and results.  At the CEAN forum, the transformation team asked CEANs to discuss what might be both "easy" and "hard" about living those three values at VCH. This feedback will continue to inform the transformation strategy moving forward.
 A Treasure Trove of Feedback
There are so many other great engagement gems in the CEAN Forum Reports! They are a great resource to us when staff come with questions and projects as they cover off so many continuing themes in healthcare.
Thanks to our amazing CEANs for participating in the forums and for all the many waves of work that come from them!